Programme
Alpine Rail Optimisation will assess the progress of the Alpine region's use of the Internet of Things to date, the level of its capabilities, the practical steps on how to fully harness its growth, and how to mitigate the likely challenges to implementation.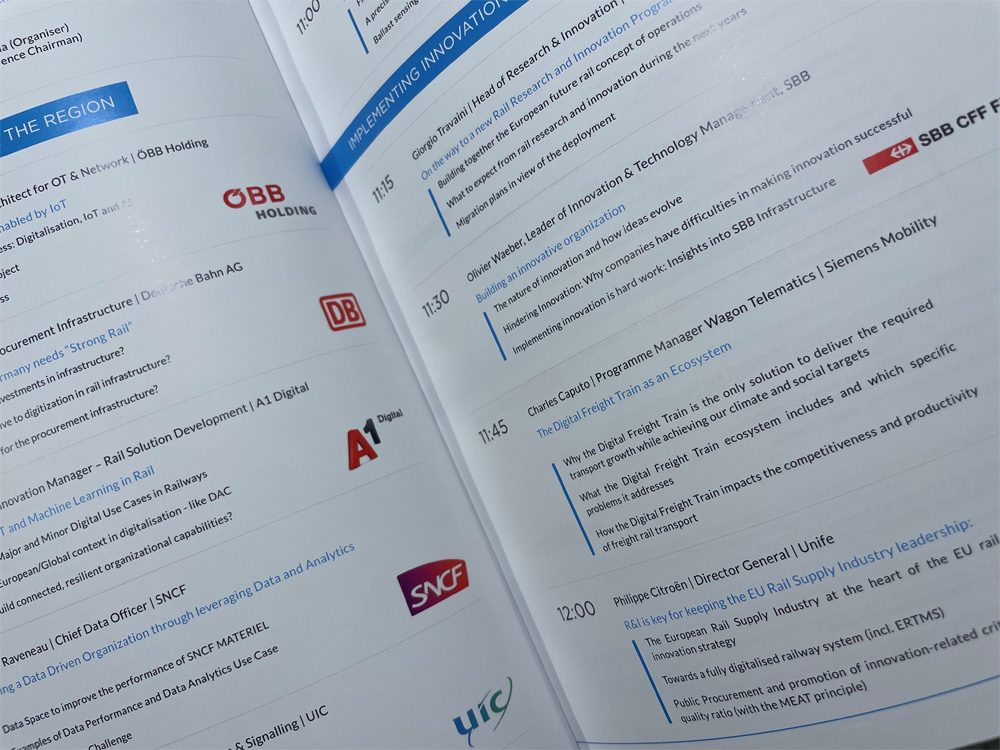 Programme in 2021 below. Programme for 2023 to be announced soon
Registration and Welcome Refreshments in the Exhibition Area
Ben Holliday | Managing Director | Rotaia Media (Organiser) and Daniel MacGregor | Founder | Nexxiot (Conference Chairman)
Organiser and the Conference Chairman's Welcome Address
Investments & Objectives for the region
Helmut Klarer | Chief Information Architect for OT & Network | ÖBB Holding
Digital Success Concepts & Needs Enabeld by IoT
The "magic formula" for digital success: Digitalisation, IoT and AI
Digitalisation is more than one Project
Lessons learned: Topics to address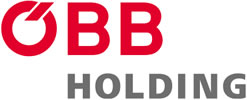 Nicole Friedrich | Head of Procurement Infrastructure | Deutsche Bahn AG
Changing perspectives: Germany needs "Strong Rail"
How to manage massive investments in infrastructure?
Why is there no alternative to digitization in rail infrastructure?
What are Implications for the procurement infrastructure?

Juergen Rudolf | Innovation Manager – Rail Solution Development | A1 Digital
Orchestrating IoT and Machine Learning in Rail
Examples of Major and Minor Digital Use Cases in Railways
Regarding European/Global context in digitalisation - like DAC
How to build connected, resilient organizational capabilities?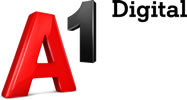 Audrey Raveneau | Chief Data Officer | SNCF
Building a Data Driven Organization through leveraging Data and Analytics
Data Space to improve the performance of SNCF MATERIEL
Examples of Data Performance and Data Analytics Use Case
Data protection Challenge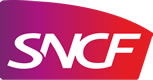 Jean-Michel Evanghelou | Head of Telecom & Signalling | UIC
FRMCS and 5G, key enabler for train digitalization
Status and progress
Industrialization project
Next steps for market readiness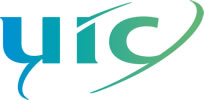 Morning Refreshments in the Networking & Exhibition Area
Lara Spendier | Strategy & Enterprise Architecture for Data Management | ÖBB Holding AG
Introducing a group-wide data management approach
How to build a common ground by defining a group-wide framework
Aligning theory with practice: introducing a shared data catalog
Outlook: What's next?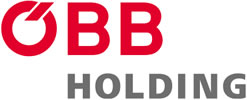 Florian Auer | Director of Technology | Plasser & Theurer
High precision tamping
First-time use of artificial intelligence in track maintenance
A precise 3D space trajectory is measured during transfer mode
Ballast sensing technology for track work

Giorgio Travaini | Head of Research & Innovation | Shift2Rail
On the way to a new Rail Research and Innovation Programme
Building together the European future rail concept of operations
What to expect from rail research and innovation during the next years
Migration plans in view of the deployment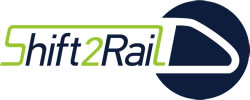 Olivier Waeber | Leader of Innovation & Technology Management | SBB
Building an innovative organization
The nature of innovation and how ideas evolve
Hindering Innovation: Why companies have difficulties in making innovation successful
Implementing innovation is hard work: Insights into SBB Infrastructure

Charles Caputo | Programme Manager Wagon Telematics | Siemens Mobility
The Digital Freight Train as an Ecosystem
Why the Digital Freight Train is the only solution to deliver the required transport growth while achieving our climate and social targets
What the Digital Freight Train ecosystem includes and which specific problems it addresses
How the Digital Freight Train impacts the competitiveness and productivity of freight rail transport

Philippe Citroën | Director General | Unife
R&I is key for keeping the EU Rail Supply Industry leadership:
The European Rail Supply Industry at the heart of the EU rail research and innovation strategy
Towards a fully digitalised railway system (incl. ERTMS)
Public Procurement and promotion of innovation-related criteria and best price-quality ratio (with the MEAT principle)

Lunch in the Networking & Exhibition Area
Digitalisation & Innovation in Railway Operations
Dr. Eric Pfaffmann| Vice President Customer Service Logistics | DB Cargo
link2rail: Digital services for easy rail freight
link2rail is the digital platform of DB Cargo that creates easy access and easy management of Rail freight for customers
Wagon Intelligence is an enabler for a set of IoT-/AI-based services which boosts attractiveness of Rail logistics
link2rail delivers the ability to customize particular services and provides access via API, App or portal

Stefan Kalmund | CEO | Nexxiot
How Global Megatrends are steering the CEO agenda in digital rail
Innovations create a meaningful impact
Billions of data points: Value is hidden in the 1%
Uncovering the 'best questions to ask'

Bigna Ruppen | Product Owner Cargo Digital | SBB Cargo and Benjamin Wecker | Head of Asset Intelligence Team | SBB Cargo
IoT meets reality: step by step forward
Two-sided IoT approach of SBB Cargo for fleet management and clients' needs
Equipping a fleet takes time and cost, so internal MVP is needed (GPS position, live counter reading, etc.)
With an equipped fleet potential client whishes can be addressed fast (track & trace, temperature)

Alessandro Borzacchi | Project Manager | Rail Cargo Carrier Italy
Augmented Wagon Inspection
Traceability of rolling stock inspection operations
Remote assistance for the wagon inspector
Rolling stock data acquisition for train preparation

Dr Michael Leining | Managing Director | NEXTRAIL GmbH and Max Schubert | Managing Director | Incyde
Securing digital innovation in Rail
IT-Security meets Railway Safety
Secure engineering of railway systems and assets
Ensuring IT-Security over the life-cycle successfully

Bertrand Minary | Chief Industry & Innovation Officer | SNCF Fret
Transforming rail freight for efficient and sustainable rail freight, serving multimodality
European and national Initiatives, making sector moving
Start for current experience and converge with common building blocks
Towards the future autonomous freight train system

Rail Operators Panel Discussion
What can be achieved from digitising my railway operations?
As demand for freight rail services dramatically increases, what are your challenges in supporting future growth?
Are long standing, traditional standards and rules preventing, or at least slowing down Railways of maximising the full potential of new digital technologies which the industry has to offer?
How are you optimising digital solutions to obtain smart data to increase the efficiency and services of your operations?
Panellists
Alessandro Borzacchi | Project Manager | Rail Cargo Carrier Italy
Bertrand Minary | Chief Innovation & Digital Officer | SNCF Fret
Dr. Eric Pfaffmann | Vice President Customer Service Logistics | DB Cargo
Benjamin Wecker | Head of Asset Intelligence Team | SBB Cargo
Juergen Rudolf | Innovation Manager – Rail Solution Development | A1 Digital
Stefan Kalmund | CEO | Nexxiot
Afternoon Refreshments in the Networking & Exhibition Area
Digitalisation & Innovation in rail Infrastructure
Dr. Slaven Stekovic, MBA | Co-Founder | DrainBot GmbH and Philipp Lepold | Co-Founder | DrainBot GmbH
Reaching autonomous, intelligent tunnel drainage maintenance system
Reduction of tunnel locking times and cost of maintenance through automation
Sustainability and resource efficiency through intelligent, data-based systems
Reference projects and potential for high-scale implementation of DrainBot systems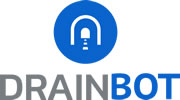 Marco Gallini | Head of Diagnostics Services and Maintenance Machines | RFI and Dr. Andrea Bracciali | Professor | University of Florence
ISO 55001 certification of RFI assets management system. Application to an innovative track geometry calibration system
Which benefits may be achieved through ISO 55001 certification?
Is digitalisation an opportunity and how can it help asset management systems?
Innovative approaches to calibration of track geometry quality measurement systems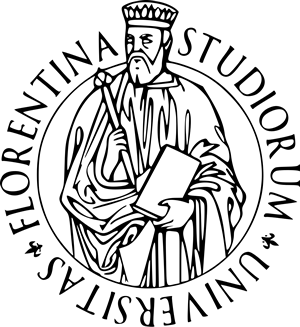 Christian Pucher | CEO | Frauscher Sensonic GmbH
Holistic real-time monitoring powered by AI
How does a digital twin of the vibrations empowers holistic real-time monitoring?
How do railway specific AI and ML frameworks transform the valuable digital twin data into actionable information?
How does the holistic real-time monitoring and actionable information transform railway operation?

Roland Moser | Chief Technology Officer | SBB Infrastructure
Applying new technologies to rail business
Artificial Intelligence in Predictive Maintenance
Machine Perception in Infrastructure Monitoring
Alternative Energies and propulsion systems to reach global CO2 goals

Christian Sagmeister | Division Manager Rail Systems | ÖBB-Infrastruktur AG
Digital railway operations - challenges and opportunities
Digitalisation projects at ÖBB infrastructure
How technologies can support your business processes?
Opportunities for the railway system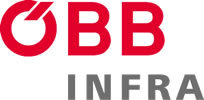 Infrastructure Manager Panel Discussion
How are you embracing the latest digital technologies to help you achieve a more intelligent infrastructure?
How important is it for Railways to collaborate with solution providers as speed of innovation and systems based on AI are now key requirements in order to solve maintenance problems?
With the numerous digital solutions now available that collect Big Data, what are your challenges in distinguishing between the mass of data which is collected, and smart data that is useful to help you with your maintenance operations?
It could be argued that the rail industry is regimented by standards, rather than continuous learning. What do you feel needs to change to harness the latest digital solutions available to enable the rail sector to thrive in the 21st century?
Panellists
Christian Pucher, CEO, Frauscher Sensonic GmbH
Marco Gallini, Head of Diagnostics Services and Maintenance Machines, RFI
Roland Moser, Chief Technology Officer, SBB Infrastructure
Christian Sagmeister, Division Manager Rail Systems, ÖBB-Infrastruktur AG
Florian Auer, Director of Technology, Plasser & Theurer
Theo Quick, Vice President and Global Market Leader for Transportation and Hospitality, Atos
Chairman's Closing Comments